Martinborough is the perfect fusion of all that makes a great wine – from the alluvial terraces to the hot dry summers, the cool evening breezes to the flinty soils… Tirohana Estate wine is made from single varietal vines from the homeblock.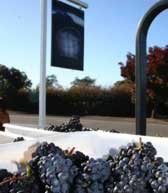 Tirohana Estate is proud to have received much critical acclaim for its varieties including 5 star Cuisine recommendations as well as several awards including the prestigious Romeo Bragato award for Championship Pinot Noir and Championship Reserve wine for its Tirohana Pinot Noir 2006 and the Dish Magazine Wine Panel 5-star gold ranking top ten Pinot Noir Heritage Special Reserve 2010.
We can ship from the single bottle to the case, door to door, domestically throughout New Zealand (there is an option to order online on our store) as well as to several other countries in the world.  For more information contact Toby James via telephone 06 306 9933 or email.
From time to time we provide our valued clients with special offers as pre-release specials for our new varietals and on occasion, end of bin ranges.  But also for those preferring aged wine then Tirohana Estate has held back in its personal cellars some of our iconic varietals such as our Pinot Noir Platinum Grand Master 2005, as well as our Special Reserve Pinot Noir 2005, along with our Championship Trophy winning, Gold Medal Romeo Bragato 2006 Pinot Noir (sadly now extinct).
A selection of wines available either via the online shopping page or through the Cellar Door are as follows:

TIROHANA ESTATE CHARDONNAY 2016 – NZD $39 (750ml)
The near perfect growing conditions of late 2015/early 2016 gave us a grapes that benefited from a heavy leaf-pluck to maximise the intense sunshine hours of the season. Green apple and a hint of flint from the alluvial terraces gives a taste reminiscent of a Chablis – elegant, delicate and very, very drinkable. Without a hint of butter or oak this is a Chardonnay that appeals to all.
TIROHANA ESTATE SAUVIGNON BLANC 2016 – NZD $33 (750ml) 
Hand-picked from the 14 rows of Sauvignon Blanc on the home block, the dry conditions of late 2015 provided perfect conditions for the fruit to ripen without any botrytis and offering tastes of pear with hints of apricot and lemon and a delicately soft and smooth finish lasting long on the palate.
TIROHANA ESTATE COSMO AND PAB 2015 – NZD $49 (750ml)
From a drought year came a unique Pinot Noir offering some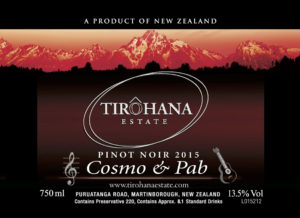 wonderful depth and complexity. Rich and dark in colour, displaying layers of ruby through to dark plum taking 'Noir' to it's true meaning. A savoury start opening up to Kirsch, ripe cherry, tobacco and dark chocolate. This wine has a long cellaring capacity but is already drinking beautifully now. Named after some good Tirohana friends, Cosmo and Pab – rock on with this amazing wine!
TIROHANA ESTATE PINOT NOIR HARMONY 2013 – NZD $65 (750ml)


This exquisite 5-clone blend (all from the homeblock vineyard at Tirohana) epitomizes a unique time in Mother Nature when all elements of the natural world are in complete harmony resulting in an elegant, soft, and diverse flavour interweaving hints of cherry, coffee and doris plum at the forefront – and a taste which will linger long and lusciously. Conditions were perfect throughout the growing season which was hot and dry with cold nights setting the stage for an exceptional vintage from our aged vines, best exemplified in Harmony's complexity.
TIROHANA ESTATE PINOT NOIR HERITAGE 2013 – NZD $85 (750ml)


Derived from our very oldest heritage vines at Tirohana and like her peer, Harmony, the Special Reserve benefited from almost perfect growing conditions throughout the season. Oaked for 12-months and punctuating a full range of complex flavours including hints of cherry, chocolate, and subtle doris plum, our Special Reserve Heritage is indeed an extra special example of a traditional Burgundy from the heart of Martinborough's premier growing terraces on Tirohana's prestigious homeblock. A limited edition with just 4 barrels' worth produced, this complex wine is unlimited in its unique quality representing an evocative and elegant result which will be truly memorable long after the last glass has been enjoyed.
Special limited edition wines are also available through the Cellar Door throughout the year.